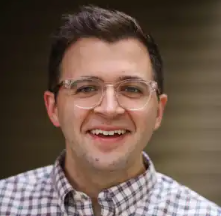 Mitch joined Memorial's staff in 2023 as the Adult Education Minister. He works with the Sunday morning Bible classes, helps organize small groups, teaches, and writes curricula.  Mitch and his wife Allison moved from Texas with their two children, Evelyn and Simon.

Lesson topics
If you feel like your faith is small, this class is for you.
If you are earnest, hungry, and eager to learn; if you know Jesus but wish you knew Him better; if you want your spiritual life to be deep - come to this class.
Over the next three quarters, we will study three ingredients to a deeper faith;
(1) Convictions
(2) Obedience
(3) Prayer.
Whether you're new to church or you feel stagnant, join us and take more steps on the Way of Jesus.